I`m quite selective about the events I attend nowadays; however when I received an invite for the launch of a bag line by Zashadu, I did a bit of digging around and finally arrived at the conclusion that it was definitely worth my while, and I was spot on. I was sort of fashionably late- ok that was me telling fibs right there. In fact I got there when everyone had already departed as I was held up on the mainland while the event occurred on the Island at Wheatbaker Hotel, Ikoyi.
Despite my late arrival, I met four VERY interestingly original folks including the designer, Zainab. As far as I'm concerned if I meet four new interesting faces at one event, that qualifies as a top notch event in my book so I give the organisers, especially the designer, thumbs up. Amongst these interesting folks was a certain lady called Nkechi Bakare. For some reason I reckoned her name was quite fascinating. I loved the mixture of Igbo and Yoruba and upon enquiry she disclosed that her parents were from different tribal backgrounds.
What actually necessitated this write-up was the project Nkechi is presently passionately pushing. As you guys already know, refreshing concepts absolutely resonate with me hence my curiosity was piqued when Nkechi let slip the fact that she ran a dating agency with her business partner. In as much as we might not want to grapple with it, there is no questioning the fact that a good number of folks work so hard that by the time they get home, the last thing on their tired and numbed minds is socialising, thereby negatively affecting their ability to meet the right spouses. Of course, dating agencies have been in existence in the west for as long as I can remember but I must confess that I had never heard of its existence in Nigeria hence my decision to introduce it to you, my discerning readers.
According to Nkechi, "Caramel & Chocolate Concepts is a full service dating and matchmaking agency that connects singles looking for true love. The company was co-founded January 2014 by Busola Ogunnaike and Nkechi Bakare.
We currently host intimate speed dating events every few months. During our speed dating parties, guests enjoy cocktails and get the chance to meet new people in a great atmosphere. We also provide custom designed dating services for those who want to enhance their dating experiences.
We understand that the search for the right one can be a challenge, as time goes on meeting and connecting gets harder because of career progression as well as limited avenues to meet potential partners. Many people have gone about the traditional routes to no avail. We hope to provide a service that initiates and enables love to flourish.
For more information about Speed Dating as well as our other dating services, please email us at: caramelandchocolateconcepts@gmail.com
Find us on Facebook- https://www.facebook.com/caramelandchocolateconcepts
And Instagram @caramelandchocolateconcepts."
For those who fall into the category of workaholics I strongly recommend that you give this a go. And oh, please be open minded about it.Thank me later, guys.*winks*.
Now the big one. I could literally hear some of you chaps saying "Emmy forget story, wetin happen to diarybyemmy.com last week and why were visitors being directed to a porn site of all places?" Well, with regards to the first question all I have to say is that we were hacked by bad belle people o. Why they decided to redirect the visits to a porn site is the question only the hackers can answer. Lol. Were they trying to say something about me or something? Hehehe. Naughty is the word that comes to mind when I think of whoever masterminded this joke. Did they actually believe this stunt would be able to stop me in my tracks? To those who didn`t find the porn sites particularly appealing, I do apologise and then to those who wished they had been redirected to more hardcore porn sites, I say "I`m glad you enjoyed it but you shouldn`t thank me but the hacker". Yes, yes, some of you enjoyed it, non?hehehehehheh
UPDATE ON MY JAG AND HODGE AUTO SHOP
My jag has been packed but will be going  to another mechanic shortly as it came out of HODGE AUTO CENTRE ON 11/27 Ocean Bay Road, near Orchid Hotel worse than it was when it went in after ermmmm N110k had been expended.If this doesn`t qualify as mugging then I don`t know what will.This auto mechanic shop is officially the worst in Lagos and we will design and post that gong with their name on it. We did communicate for a while but the communication stalemated when they invited me over and I informed them that the car could not ply that horrible road again, and I couldn`t fork out N30k for a flatbed truck as that would amount to being screwed all over again (since they mark up the cost of the flatbed). In a normal clime they would have sent a flatbed at no cost to me but hey this is Nigeria. This is definitely far from being over, this I promise! I have nothing else to lose, have I? I`m not one to take stuff like this on the chin and move on as that amounts to enabling HODGE AUTO CENTRE and their ilk to continue on same path.We must not encourage fraudulent behaviours as this if we really desire to move ahead.
On a final note, it was our 54th independence anniversary and I'm gonna wish Nigeria a happy birthday, not because I believe there is much to be joyous about, but because I have heard that so much today that I have been overtaken by the bandwagon effect. Oh, in fairness to GEJ and his cronies, the quality of power supply at the moment  has improved greatly from what it used to be when he took the mantle of office. So I reckon that is definitely worth toasting with a few glasses of bubbly.Has power supply improved in your area as well?
Ok, on a VERY FINAL NOTE (yeah, I know I said "final" before), for once I did observe how effectual the Nigerian government on all levels could turn out to be whenever they put their minds to it during the Ebola issues that held the country terrified for a few weeks. The thought of Ebola might have chilled us to the bones, however I did snatch a positive end to it as a few women who couldn`t even buy attention from their spouses if they tried, suddenly received an overdose of attention from the same spouses who hitherto couldn`t be bothered with their spouses` emotional or sexual needs. I believe not a few umu nwanyi aka ladies could relate to this. Naija man no wan die, lol! Basically "outside match" was effectively nipped in the bud just like that.
Did you guys notice how both PDP and APC dovetailed on most issues regarding the means of eradicating Ebola from Nigeria? My hunch is that this progress wasn`t achieved due to love for country but selfishness. Why? Well, you don`t have to be Einstein nor do you deserve points for realising that they vividly understood  that if the egbe gas every Nigerian, including the high and mighty, could be contaminated hence the sudden desperation to employ all necessary state and federal resources to sort it out. Anyone that expects continuance of this positive attitude in governance must expect some heart wrenching disillusionment.
To be forewarned is to be forearmed.
Ekwusigo kwam!
Now, let's proceed to that bit where we either shove folks to the winners or the losers corner.
Are you up for it?On your marks,setttttttt,goooooooo!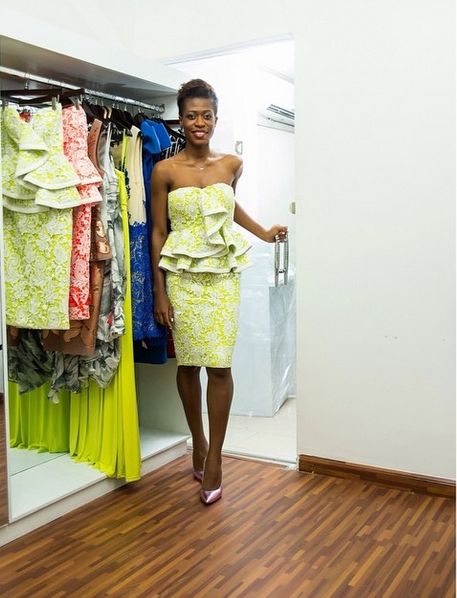 Ezinne Chinkata || Read more